ADVERTISEMENTS
Snap Links is a Firefox addon that allows you to open a series of multiple links in a particular area in a single click. It's been designed to help people open search results easily.
Use your right mouse button to drag and select a rectangular area. On doing this, you'll see the main links in that area selected, like this: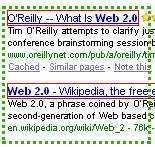 Hold the Shift key to select all links within that area, notice the change now:

Hold down the Alt key and move your mouse to change the position of the rectangular area. When you release your mouse button, each link will open in a separate tab. Hit Escape to cancel all your actions.
Download the SnapLinks Firefox add on here
[Via Lifehack.org]