ADVERTISEMENTS
If you're a beginner learning the English language, you're probably making a good use of your desktop references like dictionaries and thesauri. If you're the kind of a person who spends much time in front of your PC, you may find it lazy to flip through hundreds of pages to look up a word in your dictionary, just like me
So, I've compiled here the most popular, useful and free dictionary tools for your Windows machine:
WordWeb Dictionary Software
WordWeb is an amazingly slick dictionary software for your Windows computer. WordWeb Dictionary software sits on the system tray and you can look up definitions for words on WordWeb from any other program like MS Word easily.
WordWeb can fetch definitions, synonyms, related words (thesaurus like), also point to the root words. WordWeb dictionary tool also includes the pronunciation key for words.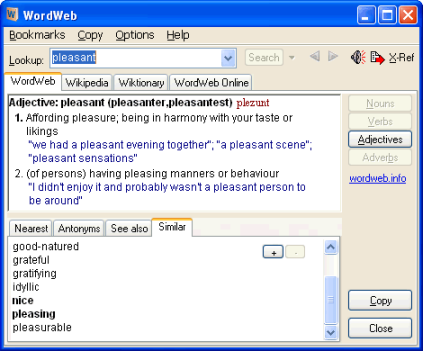 It can also fetch meanings and synonyms from online dictionaries and reference websites like Wikipedia and Wikitionary. It can fetch meanings for Indian, American, British, Australian, Canadian and global English words.
Merriam Webster's Concise Dictionary Software
This free dictionary software brings the content of the reputed Merriam Webster Dictionary to your computer.
Merriam Dictionary Software brings to your computer clear definitions, a pronunciation key and more that you may need.
You can look up any word in the dictionary by double clicking on it from your documents. This tool can also be used as a spell checker for your text documents.
Download Merriam Webster Concise Dictionary Software
Magical Jelly Bean Software
Magical Jellybean free dictionary software works with mostly all Windows versions that include Windows 95, 98, XP, and others.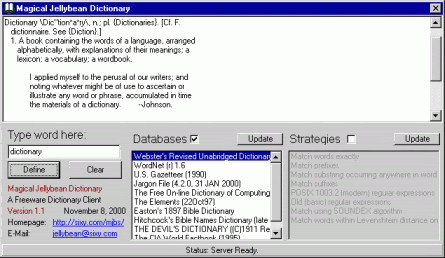 Unlike other dictionary software, this freeware dictionary tool looks up meanings, and pronunciations from an online dictionary database.
Download Magical Jellbean Dictionary Software
Hope you found these tools useful.