ADVERTISEMENTS
Online translators are tools that translate pieces of text from one language to another with the help of some complex computer algorithms.
You might need to translate a block of text, and are looking for tools to do so. You need not necessarily download quite hefty translation software to your PC, instead you can try these online translators:
Google Translate
Google Translate is a free online translator from Google. The simple, uncluttered interface makes it very convenient for online translation purposes.

Google Translate can translate blocks of text from one language to another like any other online translator. In addition, you can also translate a web page completely from one language to another using the web page translator available in the same page.
Translation to and from English, Spanish, German, French, Italian and Portuguese, Chinese and more languages are supported.
You can also search the web using Google Search for your particular region/language.
Visit Google Translate
Babel Fish Online Translator
Babel Fish is a web translator that came into existence due to AltaVista's efforts, and was bought by Yahoo! later.

Babel Fish has a colourful interface, and it's by far the most earliest, free online translator. Babel Fish online translator can also translate webpages, just like Google Translate.
Furthermore, you could add Babel Fish online translation service to your own website, and provide international visitors greater access to your information.
Visit Babel Fish Translation site
PROMT – Free Online Translation
This is one online translation tool that I happened to stumble upon, and thought it's worth a mention.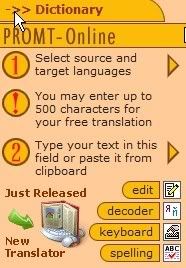 Unlike the above translators, this online translator is for more advanced users. Supporting over ten languages, this translator has features that make it perfect for a more aggressive user.
PROMT online translator has good addons like a visual keyboard, character decoder, spell checker and other such tools.
Clicking on the translate button brings up the translated version. You can also directly email the translated text from the web page itself.
But the cons include that fact that only 500 characters are allowed for a free translation service, but you can go paid for more. The page is also a bit concentrated with ads, so it won't look good unless you're using AdBlock
Visit PROMT – Free Online Translation
That was my shot of it. If you have anything to add, you can add them in the comments.
An important point worth mentioning is that none of these machine translators can be up to the mark. There can be some significant inconsistencies since machine translation technology is still in developmental stage.