ADVERTISEMENTS
Over the course of time, your computer gets accumulated with unwanted and unremoved junk files that are no longer necessary. These junk files remain unused by the operating system, but occupy much disk space. Removing these junk files is a piece of cake, provided you have any of these tools installed on your computer.
Remove Junk Files – 5 Best, Free Tools
1. CCleaner – Download
CCleaner is one amazing tool to remove junk files from your system. It scans your hard drive for potential junk files that include IE cache, unused application files, shortcuts, etc. Registry cleaning and Start up program managers are inbuilt. An additional feature is the ability to uninstalled loaded programs from your computer from within CCleaner itself. All-in-all, CCleaner is one best tool to get rid of the junk, and optimize your PC for performance.
2. Revo Uninstaller – Download
It should've been named something else. It's more than an uninstaller, it comes packed with lots of tools to remove the junk out of your system. Revo Uninstaller got all that you need – an uninstaller, files remover, autorun manager, startup manager, file shredder. You name it. It's a Swiss Army Knife that keeps your computer devoid of junk.
3. nCleaner – Download
nCleaner is new on the block, but it's good. It has more powerful options than CCleaner. You can say that nCleaner is targeted at more advanced users rather than novices. nCleaner has a file shredder. Plugins can be added to enhance the functionality of nCleaner. System Tweaks can be performed using the inbuilt tweaker, which has more options than you can imagine.
4. Advanced Windows Care Personal – Download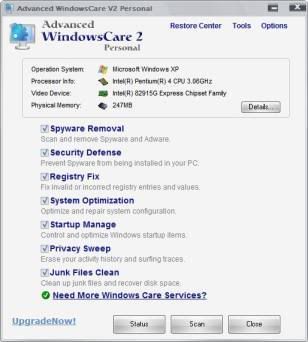 This is more of a PC Suite, and has loads of tools to optimize and remove the junk from your computer. Spyware scanner is one of it's best features, and has a one-click mechanism to protect and secure your computer. Though a paid upgrade is available, the free tool is definitely worth the features it provides. But, I found it running slow on my computer. Mind you, it's hungry on resources.
5. XP Safeguard – Download
XP Safeguard is another simple, but efficient tool that's targeted at novices. With it's appealing interface, XP Safeguard can remove junk files, and alter other settings on your computer that cause inconvenience.
Share your favourite tools and your experiences with them in the comments.