Archive for the 'wordpress' Category
WordPress is an amazing blog platform, yet has some minor incapabilities. One of them is the highly incapable image browser in the Admin Panel. It lacks the most needed search feature – you can browse through images you've uploaded, but you can't search them by keywords.

Contents Magic has recently released a WordPress Plugin that adds a little, yet highly useful feature to the WordPress Uploads page.
Over the past few months, I've experimented with quite a number of WordPress themes, most of them with a 3-column layout.
I wanted to share some of my favourite 3 column themes with you. So here are some of my 3 favourite 3 column themes for WordPress.
Readers' comments matter to every blog on earth. Why not you enhance the comments layout on your blog with these plugins?
Read the rest of this entry »
Increasing the number of RSS feed readers of your blog is an important part of building a larger reader base. More RSS readers means more chances of your content being noticed, read, more links, more comments, returning visitors and many more.
If you're on WordPress, the following plugins may help in building RSS subscribers:
Read the rest of this entry »
Search Engine Optimization is an important part of making your blog more visible to search engines, and if you've got a blog that's optimized for search engines, with unique content you're gonna get hell lot of traffic for sure. So, here's a short and simple post on 3 little things you can do to make your WordPress blog more SEO friendly:
Read the rest of this entry »
The following post reflects my personal thoughts and opinions, and is well suited for blogs of a similar niche like mine.
The design of a blog is as much important as it's content. I believe that a site's design need not be highly exquisite, but usable. So assuming that you have a WordPress blog or is looking to have one in the future, here's an article that'll tell you what you need to look for in a WordPress theme:
Read the rest of this entry »
Mostly everyone who has a WordPress blog has started using the Top Commentators Plugin. Unfortunately, this plugin doesn't have a preferences page so you've to modify its options only using the Plugin Editor available at Plugins >> Plugin Editor.
Don't worry, modifying the options for the Top Commentators plugin isn't that tough using the editor. It's really easy. Let me tell you what what options are available and how you can modify them. All of these are listed at PFAdvices. Read the rest of this entry »
For the benefit of SEO, you might have moved your blogroll to a separate page on your blog (instead of having them in the homepage), like I have done here. Remember: less outgoing links, better SEO.
But on the down side of it, you have to type in manually all links, instead of using WordPress's Blogroll facility.
Here's a new solution to it: Read the rest of this entry »
Either for the benefit of increasing page views or for avoiding the problem of duplicate content, you might have decided to display only post excerpts on your home page. You do this by adding the <!–more–> tag to your posts.
The reader will be able to glance through entire post only if he clicks on the 'more' or such links on your post. It's a good thing to do, but do you know that this affects your feed too?
Most of you give out full feeds but the fact is that displaying post excerpts makes it partial. The feed too displays only the post excerpt. Most readers are against partial feeds, you might know.
But there's a plugin to avoid this thing from happening – it's the Full Text Feed.
Once you've installed this plugin on your WordPress blog, feed readers will be able to see the entire article even if you've used the <!–more–> tag on your posts.
You can download the plugin from here. Did you find it useful?
Bored by WordPress Dashboard's default bluish look? You might want to give it a polish.
Here's a plugin to do that: WP Tiger Admin Plugin.
It basically uses CSS 2 to redesign your dashboard, and does not mess up with XHTML stuff – so you need not worry about any serious problems.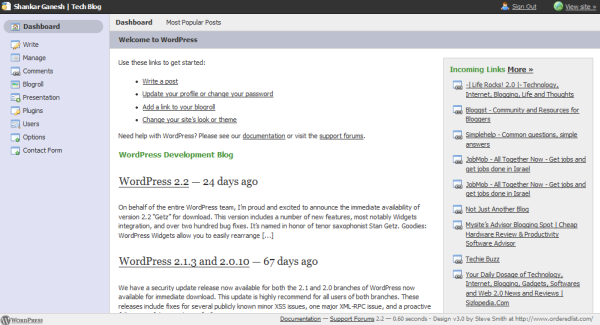 With light colours, and tiny descriptive icons for options – this is a great add on to refurbish your WP Panel.
Download the plugin from here. Screenshots are also available in the page.